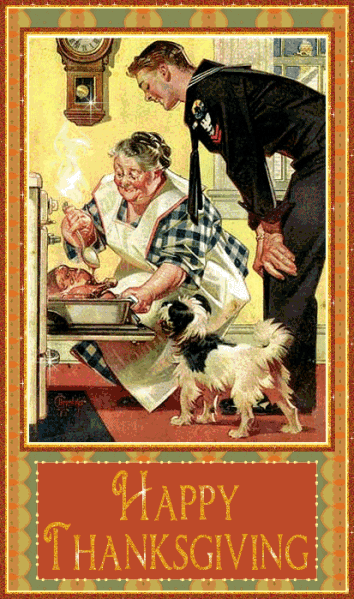 We all know what November is....the month to give thanks for everything we are grateful for! and....it's the month we get to pig out on Turkey!! Yummy! Lol...
Thanksgiving is on November 27...so make sure to find that perfect turkey lurkey and all those trimmings for that special day. Did you know Thanksgiving is actually referred to as a harvest festival? This harvest festival was between the Puritans and the Indians of this brave new world. Two most famous Indians who were at this event were,Samoset and Squanto. They welcomed these new people and showed them the ropes so to speak.
That says a lot about this holiday! It's a time to sit down with your friends and family and even some strangers too and give thanks for all that you have. And if you happen to have a delicious succulent juicy turkey with all the trimmings well then that makes it even better! What are you thankful for? I know I'm thankful for my family, my new friends I've made, my company and my health and so much more. :)
Here are some facts about Thanksgiving!
Did you know.....the Native American name for turkey is.....firkee! Are you having firkee this year?
Did you know that at one time our national bird for America was once considered the Bald Eagle and....the Turkey! lol...Benjamin Franklin wanted the turkey to be our national symbol.
Did you know that turkeys like to spend a little quality time in....trees! (I've seen this too!!! A very weird site to behold...)
Over 45 million turkeys are cooked around Thanksgiving! That's a lot of leftovers!
Unfortunately there was no pumpkin pie at the original Thanksgiving. Awww, bummer for the Pilgrims.
Thanksgiving wasn't even considered a national holiday until 1941.
Okay, now get this! Turkeys are over 10 million years old! and there's proof!! Archaeologists actually found fossils dating back to that time. Go turkey's!
Did you know that as far as a fashion statement those big black belt buckles hadn't even been designed when the Pilgrims were to supposed to have worn them? Pretty strange! I wonder how we came to see Pilgrims as big belt buckle wearers???
Well, I hope you all enjoy your holiday and remember eat a slice of turkey and pumpkin pie for me! lol....Have a wonderful & safe holiday you guys!